Materials from Alaska
Supporting communities, statewide.
With modern accommodation, premium amenities and Alaskan hospitality, the Totem Hotel & Suites provides a memorable experience for business and leisure guests. You'll find space to relax, unwind, or work comfortably in your guest room. Our custom mattresses are wrapped in premium linens, bath towels are white and fluffy, and the room is furnished with a television, coffee maker, microwave and mini fridge. Choose rooms with one king or two queens, some feature mountain views.
A breakfast buffet is served daily in the gathering room off the lobby, reasonably priced. If you would like to squeeze in a workout, the pool and exercise room are located on the first floor.
From the moment you walk in the door, our staff will be there to make sure you enjoy your stay.
STAY AT THE TOTEM HOTEL & SUITES
NEW HOTEL
Guest Room Amenities
Pillows: down/feather/foam
Pull-out sofa bed (King room)

Wireless/wired connection
Buffet breakfast, reasonably priced

Exercise room (1st floor)
SURROUND YOURSELF with Color
Hotel décor is inspired by the cool, refreshing, clean lines of winter and the lush, deep tones of summer.
"I have stayed at the Totem for years, and in all the different units. There was also a hide-a bed in the room we just stayed in. It had a small kitchenette and a washer and dryer (stackable). Service has always been good and very accommodating."
PUMPKINLADY2016, TRIPADVISOR.COM
"Just spent a couple days at the Totem. Very nice location, clean and big rooms. No problem with parking. Amazing and helpful staff. Will stay there next time on my way back!"
MR G, TRIPADVISOR.COM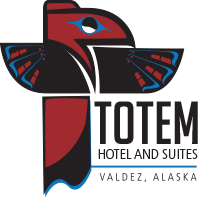 MORE INFORMATION
Check-in: 3pm
Check-out: 11am
Parking: On-site
Smoke-free Hotel & Suites
Pets Allowed